A brief overview of the Hamptons

The Hamptons can be a bit confusing to the newly acquainted. It consists of only two Townships, Southampton and East Hampton, which make up Suffolk County, New York.


But the entirety of the Hamptons is much more than that. Several small towns are found throughout the Hamptons area, all unique and charming. Intertwined between them are high-end shops of all kinds. Boutique grocery stores, butcher shops, bakeries, historical sites, sprawling beaches, and endless leisurely recreation define this coastal paradise.


This infamous oceanside resort is a perfect enclave for the affluent homeowner and prolific New York City weekender to live or enjoy their vacation property and hit the beach or the links.

Heading out on the Island, you will find popular places to escape the hustle and bustle of the big city. From west to east, you will discover Remsenburg, Westhampton, West Hampton Dunes, Westhampton Beach Quogue, and East Quogue, to name a few. There are a handful more along the way to the furthest point of Montauk, and the entire area is ripe with some of the best golfing in the state.
A crash course on the courses

Here you will find top-rated public courses to dust off the old irons and enjoy the wide-open fairways and iconic colonial backdrops while refining your swing. It's likely no secret that many of the islands' courses, especially in the Hamptons, are some of the finest this country has to offer. Not only are they highly ranked based on local testimony, but pros and other tycoons of every kind also frequent them. Several have even made Golf Digest's Top 100 list somewhere along the way.


Membership certainly has its privileges on the East end, but that privilege can come with a significant waiting period. Here's a shortlist of the top public courses you should be sure to visit, whether you're a member or not.
Pine Hills Golf and Country Club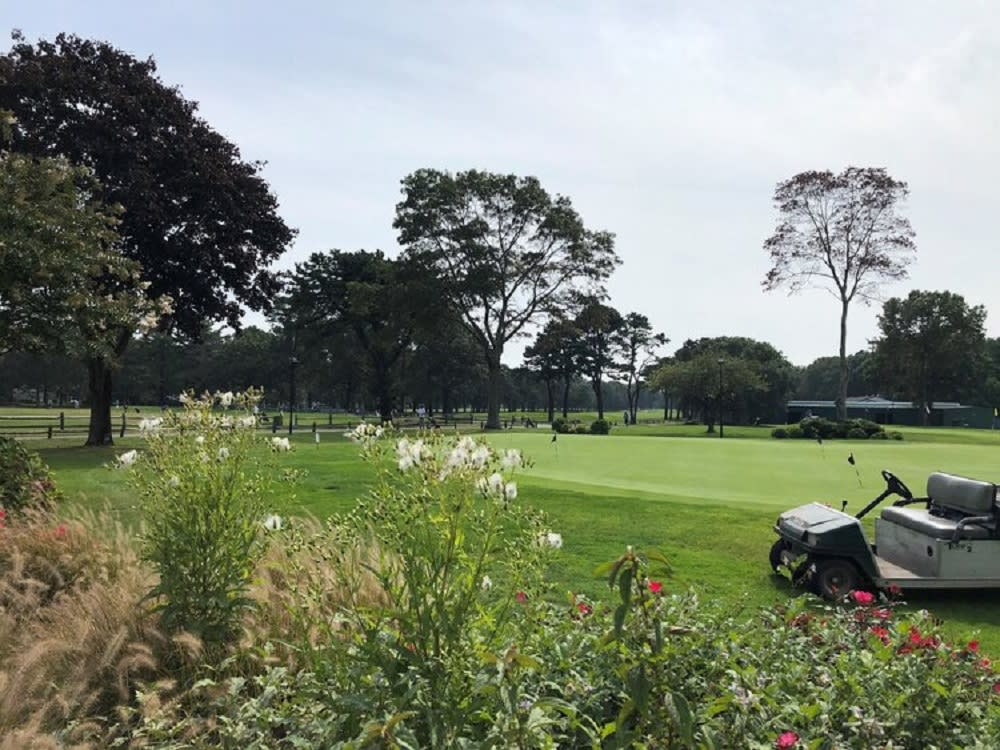 Situated in the Pine Barrens region, this course is delicately tucked away in what is practically a nature preserve. The luscious fairways and greens are surrounded by stunning, tall pines that guide you through the 165 acres and over 7,000 yards of the majestic playing area.
Beyond the golf, this well-maintained public course gives players the private country club feel. Wheel and deal by booking a private corporate outing or taking friends and family on a relaxing excursion. Take a private lesson with a pro or practice all year long with their chipping area and putting green. There is also a full bar and restaurant open to the public. This #1-voted golf course by GOLFNOW is sure to please.


In summary, here is what this well-rounded club offers at a glance:
Rock Hill Golf Club

The Rock Hill Golf Club is another beautifully curated public course located in Manorville. Like Pine Hills, this club is famous for group outings and tournaments. There are shotgun outings and first tee events where tee times can be booked by groups of 16 people or more for personalized tournament-style play with co-workers or other types of parties. Rock Hill also comes equipped with a high-end golf shop, driving range, and a teaching studio. There is also a restaurant available with full catering service. It's fabulous for accommodating large groups but also pampers small parties and individuals.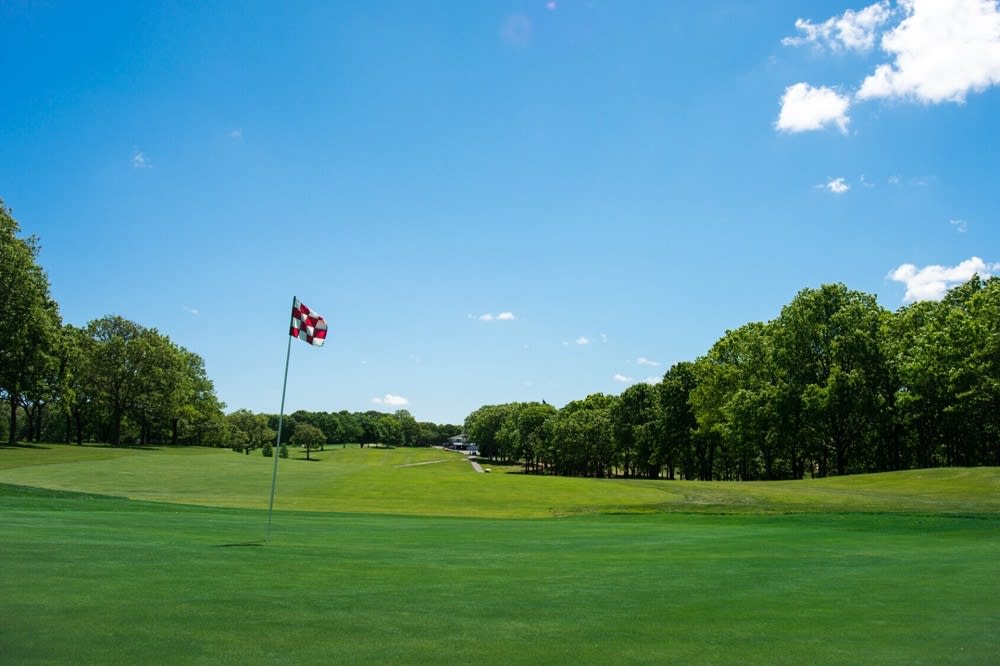 A top-tier instructor runs the golf academy on the premises, and he is ranked as one of America's top 50 golf teachers. Whether you are an experienced player or venturing out to try a new sport for the first time, Rock Hill welcomes all.
The course is entirely open to the public, and anyone can pay a nominal fee to set up a tee time. For those who may find themselves frequenting this course on a more regular basis, Rock Hill offers a variety of membership packages.
Look at all the options from group outings, membership packages, and other club perks
here
.
Poxabogue Golf Center
Nestled in Bridgehampton, this humble 9-hole golf course is perfect for those who want to get in a quick round with minimal commitment. Aside from the neatly laid out course, it's also a delight to play. It is quietly sheltered by beautiful vegetation of all types, and each hole looks magnificent at every turn. This is a great course to satisfy the urge to play without making an entire day out of it.
What makes this golf center incredibly wonderful is its commitment to teaching folks of all ages. There are private lessons, clinics, and even summer golf camps. They offer a Junior Golf Program year-round. Reserve an adult clinic session for 6-8 players for a group learning environment.
Poxabogue is dedicated to teaching the fundamentals of the game to the youth and developing young golfers while making it a fun experience for them. The Junior Summer Camps are for boys and girls aged 7-16. Each session runs for about a week, all summer long. This is an excellent way for adults to work on their game or enjoy the rest of the Hamptons and not worry about what to do with the kids.
Book your tee time
or enroll in their highly regarded teaching programs today.
Montauk Downs State Park Golf Course
In the spirit of saving the best for last, Montauk Downs is the best public option in the Hamptons, at least in the eyes of
Golf Digest
. New York State residents may qualify for half-priced green fees and other perks.
This challenging yet entertaining course will completely immerse the most seasoned golfer in the beauty of the game. Inside an enchanting state park, this course gives the feeling of complete isolation along the eastern shores of Long Island. Golfers are sure to enjoy this beautifully remote place to play. Players contend with the thickly wooded areas, natural ponds, and the winds from nearby Lake Montauk and the Atlantic Ocean.


In addition to Golf Digest, Montauk Downs has also been featured in:
Golf Channel

Golfweek

GolfAdvisor.com
If golf is your game and you are spending any time out on the island,
Montauk Downs
is absolutely a must-play.
Live to Play
Once the day on the links is done, it's time to wind down, relax, and enjoy the luxury and comfort of your Hamptons home. As we mentioned above, it can be quite a challenge to find the proper village or Hampton hamlet that suits your leisure style.
Fortunately, Maria Cunneen can put you at ease and help you find the best piece of property to suit your style. Maybe you're looking for Westhampton beach houses for sale, or any Westhampton real estate for that matter. It is also worth looking at homes for sale in Quogue, NY, or the Remsenburg real estate market.
As a native of Long Island and a resident of Westhampton for nearly two decades,
Maria
has become an expert in the luxury real estate market in the Western Hampton areas. She is dedicated to her clients and has represented buyers and sellers for over 16 years. Over that time, Maria Cunneen has built a sterling reputation for her deep relationships, caring nature, professionalism, and integrity. There is no one better to assist you in finding your solitude in the Hamptons than
Maria Cunneen
.