Buying in a seller's market is notoriously difficult, as more buyers and less inventory make for stiff competition. The frustration of trying to buy in a seller's market is that you might put a bid down on a house you love, get excited to move, and then discover that someone has outbid you. Bidding wars can drag on, and force up a home's price exponentially.

In order to avoid overpaying for the home you love, work with a realtor you trust, and consider the following valuable tips on how to avoid a bidding war.
Get pre-approval


A pre-approval letter lets the seller know the precise mortgage amount you've been approved for based on your financial documentation such as W-2's, bank statements, and credits score. This will let sellers know that you are serious about buying their home and have the funds to do so. To acquire a letter of pre-approval, meet with your bank prior to starting your home search. Either bring a digital or physical copy with you to showings to encourage sellers you're serious and ready to put in an offer.
Make the highest offer possible

Placing a higher bid upfront could sway the chances of you getting the house—especially if you don't need to take out a loan to do so. You don't want to put yourself at risk for paying more than you can afford (or than the house is worth), but you want to show that you are serious and competitive. You can check in with your real estate agent to find out how many other people are competing for the home, and strategize about the best amount to offer. Because they know the market, your realtor will be able to tell you what a reasonable price is for the specific listing without advising you to put down more than the house is really worth.
Have a strategy if you can't be at the inspection


Home inspections are a crucial part of the buying process, and you won't want to miss out. If something comes up at the last minute and you can't attend a scheduled home inspection, ask a trusted friend to walk through the house and report back to you with any findings. This will ensure that nothing slips through the cracks.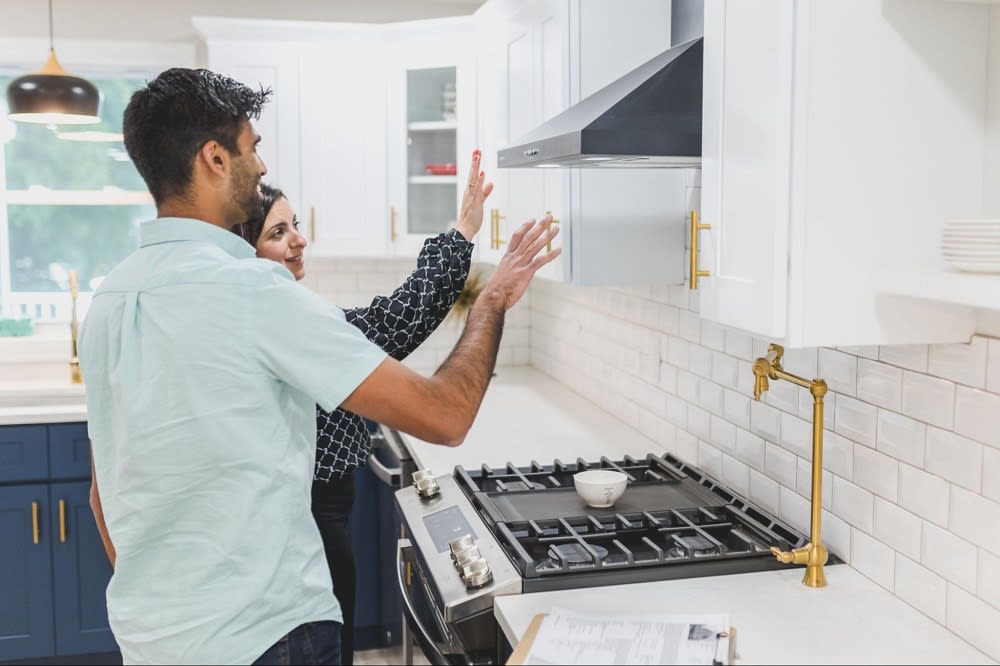 Add an escalation clause

An escalation clause can be included in your offer to ensure that you don't overpay for the home you want or get outbid before you have a chance to make another offer. An escalation clause is included within your original offer and states you are willing to up said offer by "x" amount should someone else come in with a higher bid. Your real estate agent will help you determine what amount you should go up to in order to remain competitive but stick to your budget too and write the clause into your initial offer. An escalation clause is a fantastic tool in a seller's market, it ensures you won't be outbid as soon as another offer comes in and keeps you from overspending at the same time.
Offer a cash deal

Submitting an all-cash offer is one of the best ways to move your offer to the top of the heap. If the other buyer is relying on a loan from the bank, there's always a chance the deal will fall through. Thus, an all-cash offer—even if it's lower than the highest offer received—can easily beat out the competition.
Drop your contingencies


Contingencies are a set of conditions that have to be met before a sale can be concluded. For example, a contingency can say the sale price must not exceed your offered price after appraisal. By getting rid of that contingency, you are willing to pay more money if the appraisal finds that it is worth more than you offer. In a seller's market, homeowners are reluctant to accept an offer with contingencies because it's likely another offer without them may come along. Since the seller's goal is always to get their house off the market as quickly as possible, you can make your offer more appealing by dropping contingencies and finishing the sale. Your realtor will help you craft an offer that eliminates contingencies without putting you at risk.
Be available


Leave your information with the seller and/or their real estate agent, and make sure you're available if they call. Respond to any questions they have about your offer as quickly as possible, and have your real estate agent check in with them often. Be as flexible as you can with your schedule to stay on their radar, and to demonstrate the passion you convey in your personal letter to the seller.
Looking at Hampton luxury homes for sale?


If you're looking for Quogue, Remsenburg, or Westhampton real estate, reach out to local realtor
Maria Cunneen
. Maria's market insights, intelligent negotiation, and impeccable customer service will help you find the Hamptons luxury home of your dreams in a seller's market—without the stress.
Contact Maria and her team
today!